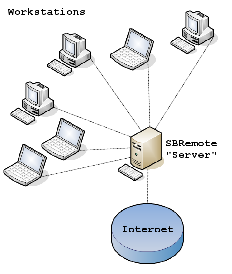 Installing and uninstalling software on a Windows PC is as simple as ABC. But when it comes to doing the same for tens and more of PCs, nothing else can be a more laborious and mundane job. Would you be comfortable visiting every machine located on local network and install applications manually? Obviously not! SBRemote Deploy makes it easy to deploy SetupBuilder "push-enabled" packages over a local area network (LAN). The deployments are done silently, which means the person on the receiving PC does not need to do anything on their end. The remote software installations will not disturb the end users with windows or dialogs and won't interrupt their workflow.
SetupBuilder "push-enabled" Package
A SetupBuilder "push-enabled" package is the most effective LAN installation method, and requires that all target workstations be online. The SBRemote Deploy technology "pushes" the client software to the computers that you specify, either by IP address or by computer names. Once the package copies to the target computer, the SetupBuilder package installs automatically. The computer user does not need to begin the installation or to have administrator privileges. Immediately after the installation is complete, the SetupBuilder package sends a status message back to SBRemote.
What if you want to uninstall application from the targeted computer? Wondering how? Just relax, as SBRemote Deploy will also take care of it by silently removing any desired application from the selected PCs from any workgroup.
A SetupBuilder "push-enabled" package also allows you to perform installed software audits on connected PCs. Get insight information about installed applications like name, version, and manufacturer, etc. Put all the collected data in one database, so you can check up on the PCs on your network quickly. You can "pull" this information directly from the remote PC.
The initial purchase of your new SetupBuilder Developer Edition license or Maintenance and Support Plan renewal comes with a free non-perpetual SBRemote Deploy product license and includes a free 5 Nodes Pack which allows to remote deploy SetupBuilder packages on up to 5 remote PCs per installation session. You can compile an unlimited number of "push-enabled" packages during the term of the Maintenance and Support Plan.
The number of nodes can be increased by purchasing an "Additional Nodes" Pack which lets you remote deploy to computers belonging to the company or organization they are registered to (including affiliated and subsidiary companies) and to computers belonging to its customers and clients.